In the Pacific Northwest, people tend to prefer their roofs in shades of brown or black. A brown roof can range from elegant to rustic, depending on the colors and materials chosen in combination with existing details. Let's take a look at when to choose a brown roof and what your selection of brown roofing materials could be.
When to choose a Brown roof
There are any number of great reasons to choose a brown roof. A brown roof is best when you have some combination of the following factors:
Environment: Great in cities too, but especially if your home is in a wooded, desert, sandy, rocky, or similar natural area
Permanent Elements: Your brick, stone, or wood accents work with brown; fence, railing, window frame, or skylights are harmonious or complementary.
Home Style: Modern, Northwest Contemporary, Prairie, Craftsman, Lodge, Log Cabin, and a lot more.

Local Style: Many homeowners' associations have requirements as to which materials and colors can be used on your roof. Some towns, historic districts, and other zoning entities may have a say in the changes you plan to make. Be sure to discover and follow any rules that apply; this is definitely not a case of being easier to ask for forgiveness than permission.

Personal Style: Many people find brown to be warm, comforting, natural, approachable, even sophisticated – while others might think it's bland. You can't please everyone, so just be you.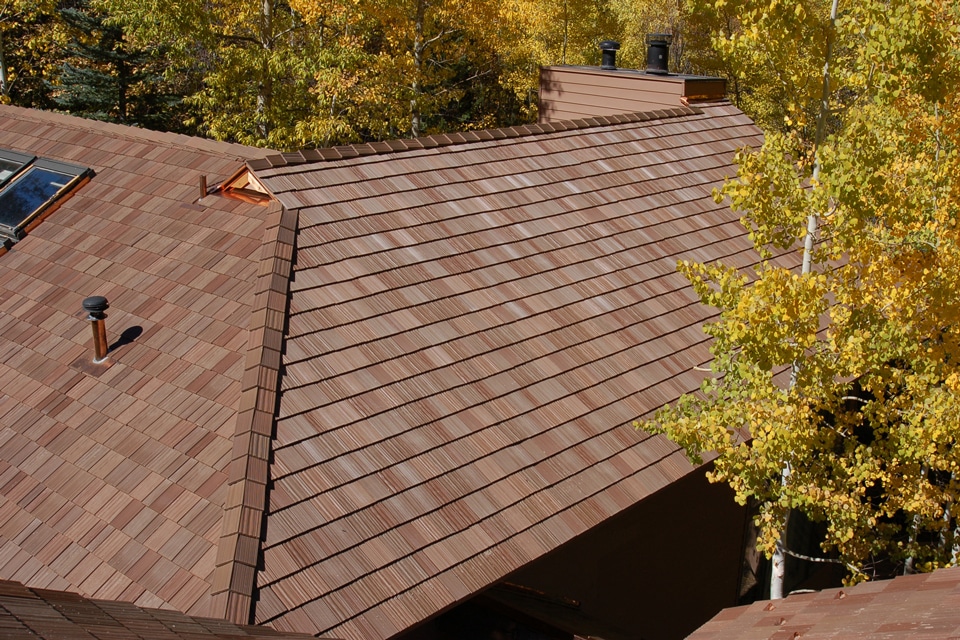 What Colors Go With A Brown Roof?
Numerous colors work with brown simply because there are so many browns to choose from. Many people assume brown is always within a warm palette. Not so. It can also be cool or neutral, so choose what works best for your situation. Look for the right undertone to complete your vision.
Muted or smoky colors are typically better with brown than brights.
Your home with a brown roof can have brick, stone, siding, or paint in any of these popular hues, plus a few more creative ones:
Cream, Ivory, Yellow (White gets a bit harsh)

Beige, Tan, 

Brown

Coral, Orange, Red

G

reen, Turquoise, Teal

Smoky Blues

Plum or Purple

Shades of Gray and Black are newer entries in this category, but currently hot choices. Some roofing materials even have grays and browns combined.
Pro Tip
If you find a color you like, but it's a few shades too dark, ask your roofer if it comes in an Energy Star version. They sometimes have the same name but a lighter color.
Likewise, if you had a standard color before and you didn't compare swatches before selecting the energy saver, you could end up with a lighter color than expected.
Brown Roof Shingles
All major brands make brown shingles. They are available in different shapes, shades, and quality. We roof around the Puget Sound and GAF Weathered Wood is our most popular brown shingle by far.
Keep in mind that certain colors are only available in specific regions. Consult with your roofing team to see what's normally available where you live.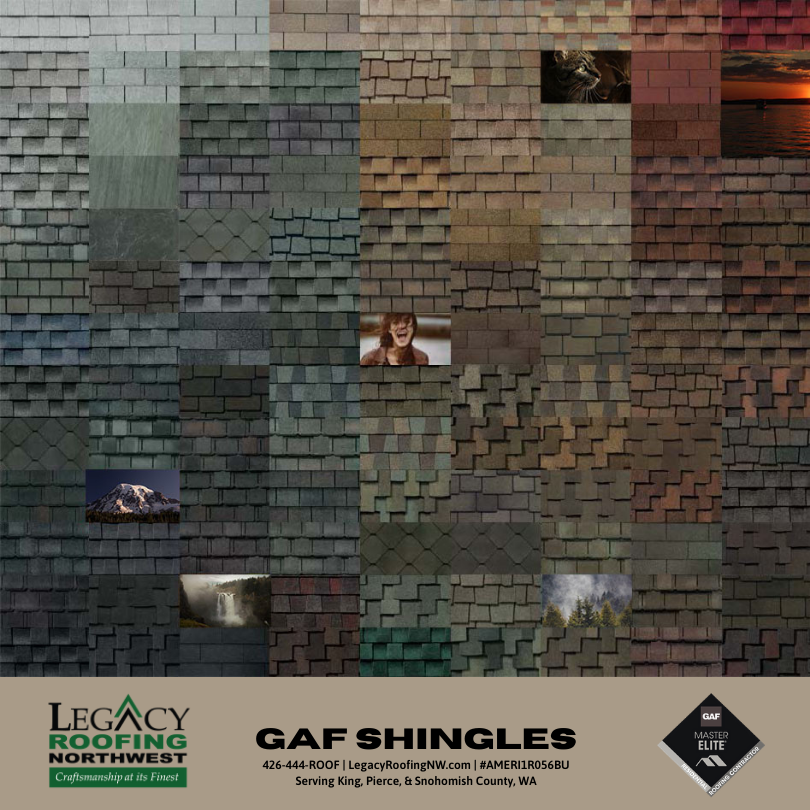 Brown Metal Roof
A standing seam metal roof is a good choice in our Pacific Northwest climate, especially in the higher elevations where it is more likely to snow. They come in many colors and profiles.
If you are thinking of a brown metal roof ask your consultant to see actual metal samples because metal roof color charts and other swatches rarely match well, especially for metallics. Color names can vary from one manufacturer to the next. These are from Nu-Ray Metals.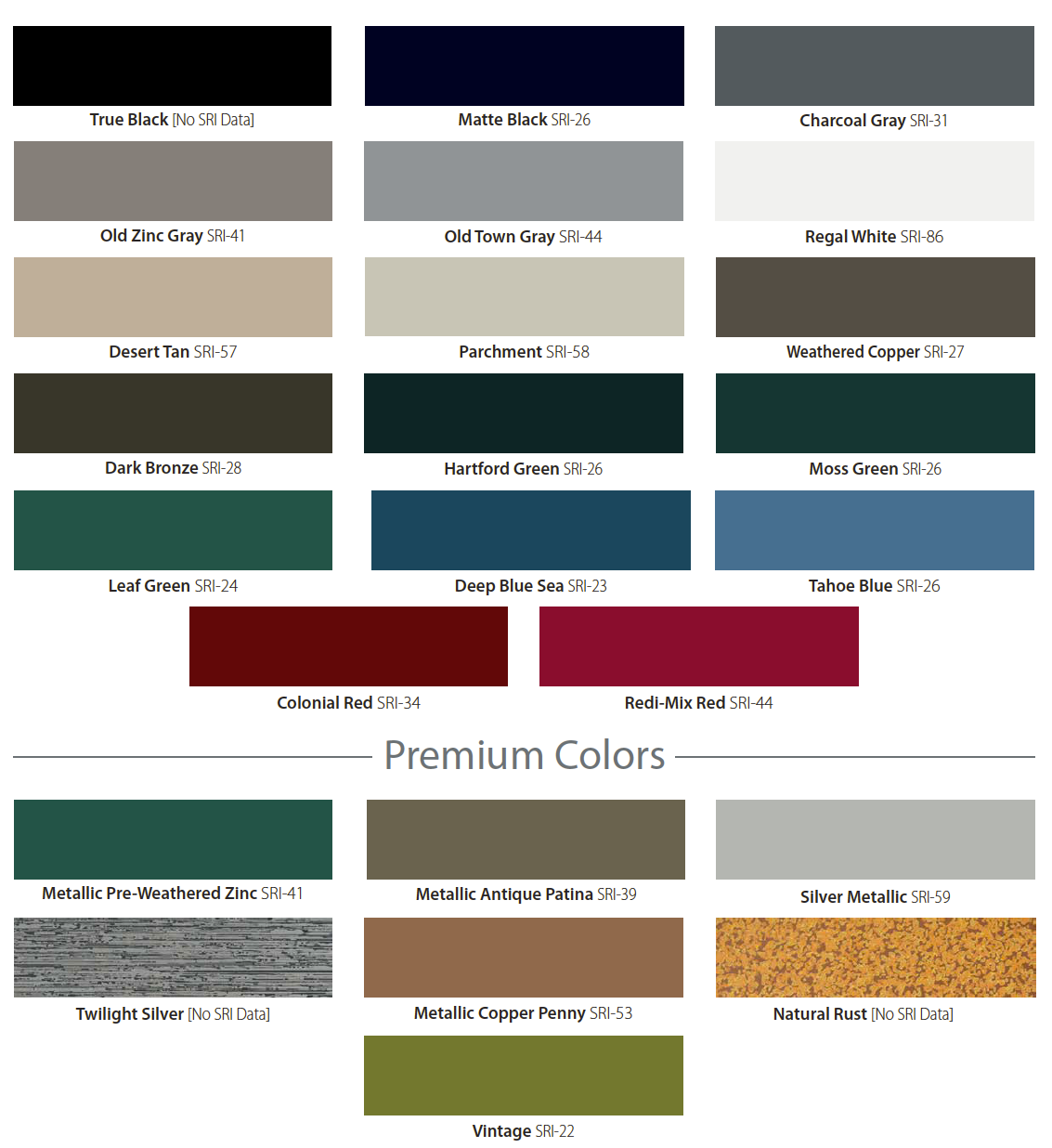 Nu-Ray metal roofing in Regal White | SRI-86
While not exactly brown it is a light creamy color with warm beige undertones.
Nu-Ray metal roofing in Parchment | SRI-58
Parchment is a lighter neutral khaki.
Nu-Ray metal roofing in Desert Tan | SRI-57
Nice warm tan color.
Nu-Ray metal roofing in Old Town Gray | SRI-44
This color looks solidly gray in swatches, but when going through the actual metal samples the color feels very warm and brownish, like the photo above.
Nu-Ray metal roofing in Metallic Antique Patina | SRI-39
This is a fascinating metallic color that seems to shift between green and bronze.
Nu-Ray metal roofing in Weathered Copper | SRI-27
An honest dark brown.
Nu-Ray metal roofing in Dark Bronze | SRI-28
Very dark brown.
Brown Roofing Alternatives
Looking for something particularly elegant?
We absolutely adore DaVinci Roofscapes synthetic shakes and shingles. They are thick realistic looking resin roofing materials in an array of gorgeous, long-lasting colors. Here are just a few brown shingle options with color coordinating ideas.
Black vS Brown Roof
As a rule of thumb, if your siding colors are bright and crisp then choose black; if your colors are muted and softer then choose brown. If you still can't decide between a black or brown roof, there are a many options that contain them both! Take a look at DaVinci Aged Cedar or Mountain Abruzzo and darker GAF shingles like Dusky Gray.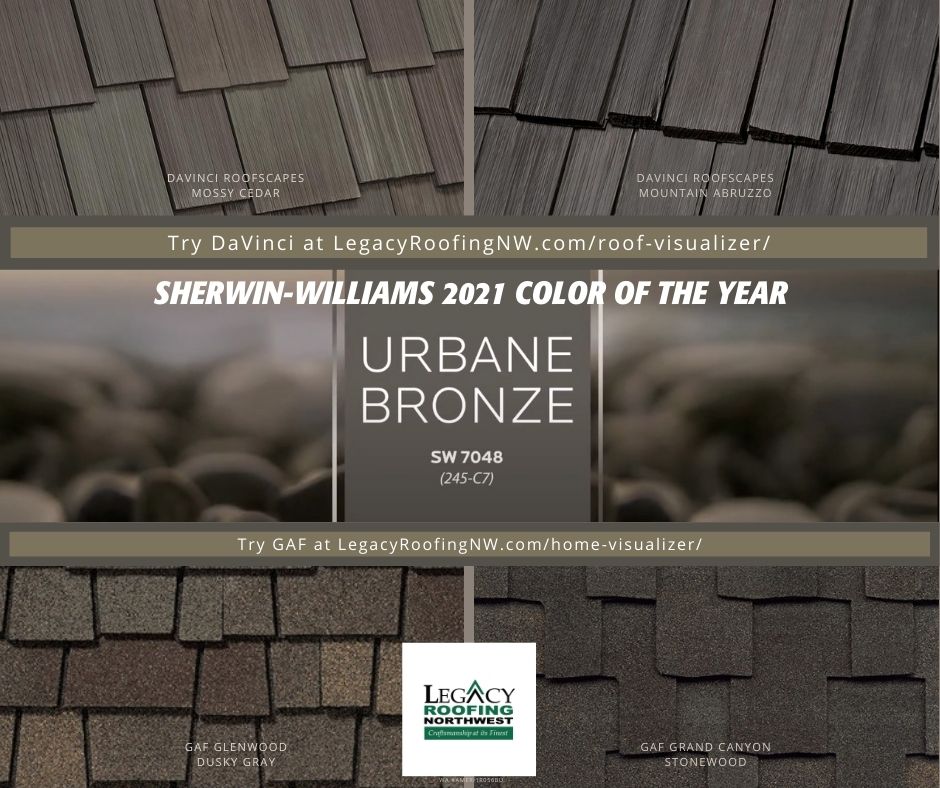 Test Some Brown Roof House Ideas
It can be hard to choose a roofing color, if you are looking for a brown roof or otherwise. Feel free to have some fun with the DaVinci home visualizer for further inspiration. You can also check out some of our portfolio projects. Let us know when we can help.